Institutional & Professional
---
INSTITUTIONAL & PROFESSIONAL WET WIPE PRIVATE LABEL
In 1994, Diamond Wipes International debuted its original American-made microwavable hand wipes to local restaurants in Southern California. Today, the company manufactures and distributes these wet wipes — dubbed "oshibori" after the Asian tradition of offering hot and moist towels to guests — nationwide to all major food service markets. These complimentary wet wipes are available for private label to restaurant operators and food service providers. A competitively priced branding tool, with utilitarian value of convenience and cleansing, enhances the dining experience of guests while promoting a sanitary environment and personal hygiene.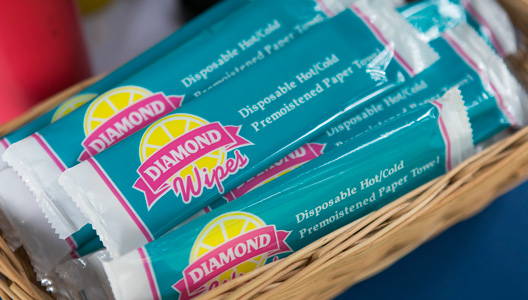 Diamond Wipes International also offers its wet wipe private label programs for hospitality and travel, janitorial and sanitation, and healthcare markets. Popular products include makeup remover wipes, multipurpose cleaning wipes, car dashboard cleaning wipes and disposable adult washcloths.
 
Get in touch with our knowledgeable sales representatives about any question you may have.
COMPLIMENTARY HAND WIPES
America's original microwavable moist towelettes are perfect complements to all restaurant and hospitality services. US-made high quality disposable towels with mild cleansing formula. Value-added, individually wrapped branding tool with your logo, design & message.
HOSPITALITY AND TRAVEL AMENITY WIPES
Select from bestselling in-room and inflight amenity wipes to better enhance guest and passenger experience. Includes individually packaged makeup remover wipes, shoe shine wipes, cleaning wipes & hand sanitizing wipes.
CAR DASHBOARD CLEANING WIPES
Value-added branding tool to actively promote your business while improving guest experiences.  Perfect complement to your car wash services or as promotional giveaways.  Low MOQ and competitive pricing.  American-made, high quality pre-moistened disposable wipes with your own logo, design and message. 
JANITORIAL & SANITATION CLEANING WIPES
For cleaning professionals. Brand your cleaning supply essentials with our multipurpose hard surface cleaning wipes, table cleaning wipes, and hand sanitizing & antimicrobial wipes. Available in recycled/recyclable rigid canisters and flexible soft packs.
WIPES FOR HEALTHCARE
For professional caregivers. American-made premium quality cleansing wipes are available for baby and toddlers, incontinent or bed-ridden patients & seniors. Includes dermatological tested hypoallergenic baby wipes, personal hygienic wipes, rinse-free adult wasthcloths & bath wipes. Also available are medicated wipes for antiseptic and antimicrobial purposes.
CRAYONS
For foodservice and hospitality operators. Competitively priced low MOQ private label crayons are safe, non-toxic, and conforms to ASTM-D4236. Combine with custom moist towelette private label service to complete your branding program.