Private Label
---
INSTITUTIONAL & PROFESSIONAL WET WIPE PRIVATE LABEL

In 1994, Diamond Wipes International debuted its original American-made microwavable hand wipes to local restaurants in Southern California. Today, the company manufactures and distributes these wet wipes — dubbed "oshibori" after the Asian tradition of offering hot and moist towels to guests — nationwide to all major foodservice markets. These complimentary wet wipes are available for private label to restaurant operators and foodservice providers. A competitively priced branding tool, with utilitarian value of convenience and cleansing, enhances the dining experience of guests while promoting a sanitary environment and personal hygiene.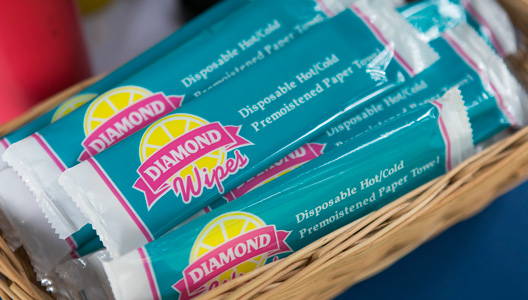 Diamond Wipes International also offers its wet wipe private label programs for hospitality and travel, janitorial and sanitation, and healthcare markets. Popular products include makeup remover wipes, multipurpose cleaning wipes, and disposable adult washcloths.
 
Get in touch with our knowledgeable sales representatives about any question you may have.
 

America's original microwavable moist towelettes are perfect complements to all restaurant and hospitality services. US-made high quality disposable towels with mild cleansing formula. Value-added, individually wrapped branding tool with your logo, design & message.
HOSPITALITY AND TRAVEL AMENITY WIPES
Select from bestselling in-room and inflight amenity wipes to better enhance guest and passenger experience. Includes individually packaged makeup remover wipes, shoe shine wipes, cleaning wipes & hand sanitizing wipes.

JANITORIAL & SANITATION CLEANING WIPES
For cleaning professionals. Brand your cleaning supply essentials with our multipurpose hard surface cleaning wipes, table cleaning wipes, and hand sanitizing & antimicrobial wipes. Available in recycled/recyclable rigid canisters and flexible soft packs.

For professional caregivers. American-made premium quality cleansing wipes are available for baby and toddlers, incontinent or bed-ridden patients & seniors. Includes dermatologically tested hypoallergenic baby wipes, personal hygenic wipes, rinse-free adult wasthcloths & bath wipes. Also available are medicated wipes for antiseptic and antimicrobial purposes.

For foodservice and hospitality operators. Competivively priced low MOQ private label crayons are safe, non-toxic, and conforms to ASTM-D4236. Combine with custom moist towelette private label service to complete your branding program.
---
RETAIL STORE BRAND PRIVATE LABEL WIPES

Food and non-food alike, private label programs in FDM and MULO continue to evolve into new heights. Retailer private label goods are no longer about being generic and economical. Developing original and innovative products unique to each store brand is critical for retailers to succeed in today's highly competitive CPG landscape. Diamond Wipes International partners with some of the country's largest drug store operators and budget retailers to develop their exclusive wet wipe programs.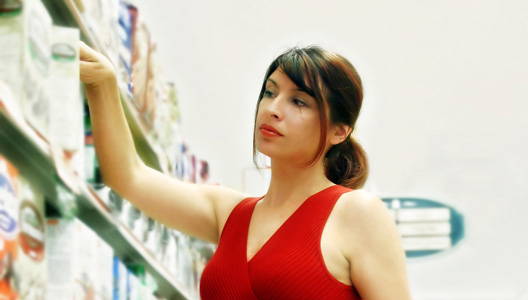 Get in touch with our knowledgeable sales representatives about any question you may have.
 

Skincare wipes outperform the category in sales velocity. Popular products include makeup remover wipes and face cleansing wipes. Exfoliating and daily peel concepts are strongly trending up.

Demands are steady and strong. Both acetone and alternative nail polish remover formulations are available.

Over-the-counter medicated acne treatment formulations are available in both conventional pad applicators and new wipe format packaged in flexible soft pouches.

Parents, mothers & fathers now come in all stripes presenting opportunities for unique baby wipe concepts catering to their philosophy. Budget or premium, dermatologist-approved hypoallergenic baby wipes are all manufactured in the USA.

Length of adulthood continues to extend as aging population grows. Garnering high sales movement, opportunity areas include male & female personal hygiene wipes targeting unique needs of specific age groups, body wipes, medicated wipes & pads, and at-home bath & cleansing wipes.

For glasses, and more importantly, screens. Mild cleansing formula lens and screen cleaning wipes will enhance our touch-based, digital technology-driven lives.

Notable for gaining in performance in sales velocity, wipes for family pets show strong promise. Popular wipes include in-between-bath cleansing, ear cleaner, oral hygiene & eye cleaning treatment.

UNIQUE PRODUCT INNOVATION
Increasing number of retailers is teaming up with 360-degree branding agencies and marketing firms to develop unique store brands. Consider Diamond Wipes International as strategic partner in your branding ecosystem to create innovative wipe products.
Address
Diamond Wipes International, Inc.
4651 Schaefer Ave.
Chino , CA 91710 , USA
Contact Information
Customer Service: 1 (800) 454-1077
Office: 1 (909) 230-9888
Fax: 1 (909) 230-9885